Carport Conversion FAQs
When planning to enclose a carport to convert it in to a garage, there are several common questions that people raise (including how long it takes, which can be less than one full day). In a moment, we'll list a few more of the top questions and then you can read more detail below. (Note that if you are interested in financing the enclosing of your carport in to a garage, we do not offer that although you can ask any lender about applying for a 203k loan for a carport conversion, as in lenders like a bank, mortgage broker, or credit union.)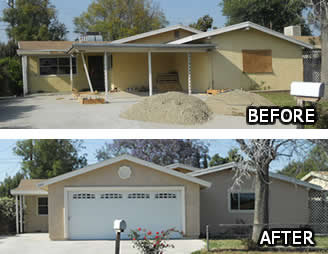 1. What does a carport conversion typically cost?
2. How long will it all take?
3. What about building codes & permits?
4. What about insurance coverage?
5. What the are the main benefits?


First, most people may ask what a carport conversion typically costs and how much lasting value they will get from their investment.
The total that we charge for enclosing a small carport is often under $2000, although some carport remodels are much more costly (like if the concrete foundation is cracked or the roof is unstable).
For more details, you can read our report on
typical costs for converting a carport to a garage
, which includes sections on why some conversions cost so much more and why some cost less than average.
"How long will it take to convert the carport to a garage?"
The first issue here is how close is your carport to being a full garage already? In rare cases, all of the work can be done in an entire long workday.
For example, the shortest amount of work is with a 1-car garage in the following situation. Fastest is when you just need one small side wall built (and do not need the supportive moisture barrier of footers between the existing cement and the new wall), plus you need the garage door framed and installed on the front. If you already have a light in the ceiling of the carport, then installing the motor for the garage door opener will also be very fast.
In that simple of a case, you might not even need a permit. If you do need a permit, filing for the permit and getting the application approved can take from a few days to a week. (In the next section, we address some basic questions about permits, but no matter what, for us to determine whether or not a permit will be required (or preferable even if not legally required), you should always
contact us
.
In certain cases, like when you are extending your driveway or extending the roofline of your home, then the building permit application may also require that custom blueprints be created (and then provided to the city when applying for the permit). That kind of renovation will involve extra time for the extra work, plus there may be extra inspections.
Usually the entire process (once you decide to begin and are ready to provide payment) will be completed in 10 days to 2 weeks. However, it can take longer than that in some cases just to get the initial approvals, so in rare cases the entire process will take a month or even slightly longer than that. Also, if multiple inspections need to be made by the city officials, then the construction needs to be brought to the point of the next inspection before that inspection is scheduled, and the inspectors may not be available as fast as you might hope.
The worst-case scenario (in regard to how long it will all take) that we have seen is when a homeowner had recently purchased a home and applied for the initial permit. When an inspection was done on the home, a prior unpermitted renovation was found (in the backyard and totally unrelated to the
carport conversion
). That unpermitted renovation had to be brought up to code as well and resulted in the entire project (including home improvements to bring the prior renovations up to code) took more than two months, in large part because the homeowner was faced with unexpected expenses and needed to spread out the scheduling of the work.
In other cases, a homeowner will intentionally spread out the renovations (and the costs). They may wish to complete the basic enclosure of the carport and install a garage door to have a functioning garage ASAP, but then wait a few months until they get their tax refund to then finish all the cosmetic stages (like adding extra wall insulation, installing the drywall interior, and painting). The building permit typically gives you 6 months to get the final inspections complete before you would face any additional expenses from the city (like for an extension or a 2nd permit).
We have also seen cases in which there was an unexpected structural issue. Prior to
building the garage
, a good contractor will thoroughly inspect the foundation and make sure that there is no cracking, sufficient thickness and all corners are level. In rare cases, like the conversion of a regular carport in to an extended, tall RV garage, a new layer of steel-reinforced concrete foundation may need to be poured in order to support the extra weight above it. However, unless your current carport is being replaced with an unusual garage, like one that has a 2nd-story room addition over it (or even a big loft), you can ask your estimator to confirm that yours will be a typical carport conversion and will be take no more than a few weeks (or even only a few days). To
contact us
now, click the prior link.
"Should I get a building permit and inspection for my carport conversion?"
Next, people who are very cautious may also ask about
building codes
(and the related issue of insurance coverage, which we will address below). Basically, the safest thing to do is to always follow the building codes and get the right permits and inspections. That can cost a few hundred dollars more (depending on exactly how much value the city officials estimate that the carport will add to your home). However, getting a permit will totally avoid potential fines as well as potential complications when attempting to sell or refinance the home, plus that avoids the risk of an insurance company denying a claim (because of no proof that all building codes were followed during the construction / remodel / renovation).
If any of these details are unfamiliar to you, then why not hire an experienced carport conversion service in AZ to keep things simple and relaxed for you? For more on building permits and insurance coverage, plus an index to the relevant building codes for various cities around Phoenix AZ, click here:
Arizona
. For more details, including about the added security of having an enclosed garage, see below.
Besides extra enclosed storage space, what is the long-term value?
For most people, the primary value of
enclosing a carport in to a garage
is increased security. We'll say more about that briefly, then continue with special sections for landlords who want to attract a higher rent from tenants plus a section for real estate investors who are planning to sell a home after converting the carport in to a garage.
First, your vehicle and other items that you store in your new garage will be safe from people, animals, wind, rain, hail, and so on. Plus, when you get in and out of your vehicle, the garage door can be securely closed. While unloading groceries or anything else, the closed garage door provides you and your family with safety (and also privacy from curious eyes).
Are you a landlord?
Especially for landlords who will rent out the home in Phoenix after enclosing a carport, you also want the lasting value of having garage doors that have been installed properly (so there is no hassle of correcting any errors in the bracing, in the alignment of wheels and tracks, or in the compatibility between the weight of the doors and the power of the opener).
A properly-installed carport conversion can add a thousand dollars per year to the rent you can charge, plus it could make the home much easier to rent. It will "pay for itself" within only a few years and then produce lasting profits. However, if the garage door is not properly installed, then that can lead to the need for constant
garage door repairs
or even re-installation. So, we invite you to hire a remodeling contractor in AZ with lots of experience doing installing garage doors on their carport conversion renovations.
Further,
if you are planning to sell the home soon
, homes can sell faster and for much better prices after enclosing the garage. Whether you live there or rent out the house in Phoenix, when you eventually do list the home for sale, an enclosed garage will not only make it easier to sell, but many sellers in Arizona can produce an increase in the actual selling price of the home that is bigger than the total cost of the conversion. If none of your neighbors in that part of Phoenix have garages and your house does, then that can definitely make your home stand out to someone who wants to buy a home in your area, but wants the security and convenience of an enclosed garage.
So, if you can get a fully-permitted and city-inspected carport conversion for a few thousand dollars or even less, then that means that most landlords renting out a home in the Phoenix area can expect to be able to raise rent enough that, within a few years, they will recover the cost of the carport conversion, After that, all the continuing extra cash flow will be a net profit.
Why do some local companies seem so confused about carport conversions in Phoenix?
Note that on many websites of other local companies that offer carport conversions, they present information that is wildly misleading in regard to the re-sale value after converting a carport to a garage in Phoenix. Specifically, two local AZ companies have linked to
this report
and misrepresented the data in that report. The companies explicitly reference the data for "adding a new garage" (like an entirely new structure that is not attached to your main home). That is not carport conversion! They even show the costs of these renovations as ranging from $50,000 - $80,000, which is way too high for a simple conversion to a garage.
The reality is that converting a small carport to a garage typically costs a few thousand dollars or less. A carport conversion mainly involves adding one or two walls plus installing the new garage door. So, avoid being misled by the grossly imprecise statements of unscrupulous businesses. Those companies know that converting a carport to a garage in Phoenix is not going to cost $80,000 (which is what it can cost to add a large "upscale" garage from the ground up)!
I have seen other confusing info on the internet, too, although some of that could be because people may make honest mistakes (like repeating a mistake they found somewhere else). Converting a garage to living space can involve extensive renovations to meet a variety of building codes (like flooring, windows for sunlight, ventilation for heating and cooling, and smoke detectors). That kind of remodeling can cost from $10,000 to $15,000 (according to an article on Angie's List that mentions
converting a garage to living space
in two parts of Arizona). However, a realtor serving the west side of Phoenix wrote that "Converting [a] carport into a garage can cost you anywhere from
[put your mouse here to see the questionable data]
." Sorry, but those numbers are high even for converting a garage in to living space!
For a simple
carport conversion
in Phoenix, you are not going to pay the same price as it costs to build from scratch a detached garage (from the foundations to the roof). In fact, this article on
carports, garages, & conversions
states that building a small garage can cost just a few times more than a carport.
So, as a final comment on this subject, note that the investment return (at re-sale of a home) on the cost converting a carport to a garage is usually far better than when adding a garage (which is often a quite unfavorable return, as reported in the images above). Obviously, there is huge added value in having the secure, enclosed storage space of a garage (relative to a carport). In some neighborhoods, a home with a garage can be much easier to sell (or even to rent). In fact, for landlords in Phoenix, it typically takes a few years for the increased rent to cover the initial cost of the carport conversion and then, after that, the residual profits can be several times the original investment.
Our experience will keep the process simple and smooth
The most important thing with your
carport conversion in Phoenix
is that you are satisfied with the results for many years, right? If you want to skim through several testimonials of happy customers that recommend that you hire us, click here now:
reviews
.
In case you did not learn this next detail yet, our experienced professionals began as specialists in the field of garage door installation. If the garage door does not move smoothly and reliably, you will not be happy with your carport conversion! So, when converting your carport to a garage, wouldn't you value using a construction contractor that has extensive experience with installing a variety of garage doors and openers?
When you hire our professionals to convert your carport in to a garage in Phoenix AZ, you will feel the interest and confidence of our specialists as we speak with you about your priorities and questions. It can be very exciting for you to see the project get completed so smoothly and quickly. You may also be quite relieved to find out how little the entire project will be. Contact us today to
schedule
your consultation.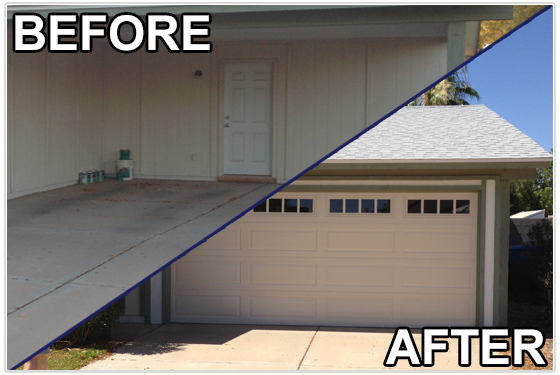 To ask a question or to request that we contact you to schedule
a free estimate, click here now: contact us about carport conversions in AZ

| | | | |
| --- | --- | --- | --- |
| Below are segments of our latest audio testimonial. A homeowner west of Phoenix contacted us when he was planning to convert his carport to a garage. | BEFORE, | DURING, & | AFTER |
Above are pictures before, during, and after the carport was converted in to an enclosed garage west of Phoenix. This carport-to-garage conversion was a pretty standard one (including the building of a single side wall plus framing off the front for the garage door). To learn more details about this project, plus why the homeowner is now so eager to recommend our garage builders, keep scrolling down.
Why convert a carport to a garage?
Q: What led you to contact us?

A: I'd been wanting a garage for well... for ever. I've got an old classic car and I've only had a carport. So I figured it would be time to get the garage fitted.

I just kind of googled "carport conversion in to garages" (on google) "in Phoenix" and you guys came up. So I gave you guys a call and the price was right, so that's why I gave you guys a call [another call] to get it done!
Converting a carport to a garage for added security
When Steve had first called us, he told us right away that he wanted the added security of a garage so that he could safely store his classic car (as well as his work truck). So, as he was thinking about how he could spend his tax refund in early 2017, he started to investigate the costs of enclosing his carport in to a garage.
If I recall correctly, he was hoping that the total costs would be small enough for him to pay for it all with his tax refund. However, he was a bit disappointed when he found out that his tax refund was not going to be as much as he hoped. Still, he really wanted a garage, plus, to keep costs down, he was willing to do some of the simplest parts of the renovation himself (such as painting the newly constructed garage to match the existing walls).
The week before the superbowl is when his story took a very unusual twist. One winter morning, he walked outside to get in his truck and drive to work (just like any other day). However, this day would not begin as smoothly as he expected....
(The short version of the story is just below. Or, you can hear him tell the whole two-minute version of the story by playing this audio: ).
Basically, his work truck was not where had had parked it. He called the police plus his boss (who told the auto insurance company) to report it as stolen. Quickly, there was new urgency for finding someone to
enclose the carport
at a price he could afford! He says he considers his neighborhood to be safe, but he definitely did not want his own classic car stolen. That would be much more heart-breaking than the work truck (that belongs to his employer) getting stolen. His motivation surged and he starting looking for a contractor in Phoenix to enclose the carport.
Why did he select our carport conversion contractors?
Q: One of the big factors in selecting to work with us was the price, obviously?


A: Yeah



Q: Am I right that you contacted some other contractors about providing a conversion for you?



A: Yes, yes I did.



Q: ...Would you say a little bit about why you did not choose them?



A: The price wasn't right. They didn't seem... they didn't sound very professional. They were charging too much money and were very very pushy to get the job done when I hadn't made my mind up yet or not. So that's why I chose you guys over them.
Would he recommend our carport conversion contractors in Phoenix to you?
Q: If you knew somebody - anywhere in Phoenix, Peoria, or wherever it may be - If you knew somebody who was interested in enclosing their carport into a garage, how likely is it that you would recommend John?

A: 100 percent absolutely. I even told him I'd recommended him... for sure.

They did a incredibly good job... extremely fast. Some... They're very very cool people.

They did a great job. I was really impressed.
Before & after photos of another carport-to-garage conversion in Phoenix:
| | | |
| --- | --- | --- |
| This carport was also converted to... | | this garage (for a real estate investor to flip the home): |