Carport conversion: how much does it cost?
Speaking with homeowners, one of the most common questions about carport conversions is "how much will it cost to build a garage from out of my carport?" Some of them have already done some research and have seen large numbers that scared them (or a big range of cost estimates that confused them).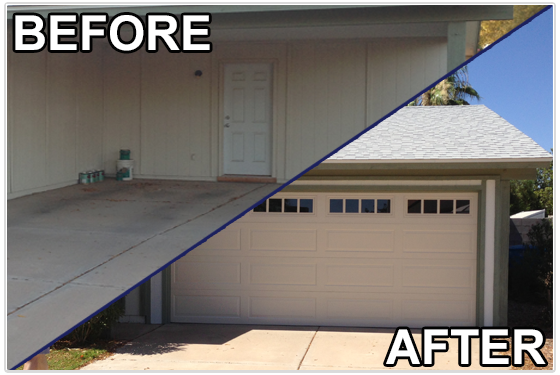 Depending on the specifics of the project, the majority of the carport conversions that our contractors in Phoenix perform will typically cost the homeowner between $2,500 and $7,500 (including the costs of the building permit, the new garage door, and all the other materials). When I show them examples of carport conversion services that were performed for even less than $2500, some respond with relief and some with disbelief.
"Converting a carport costs less than
building a new garage, right...?"
First of all, for those who were expecting a higher price to enclose a carport, consider that it can cost less than $10,000 to build a small, modest garage from the ground up (as an attached addition). Average costs (when hiring a licensed contractor) are definitely higher than that, but a lot depends on the garage (like the size, the materials, HOA restrictions on appearance, plus whether or not there is already a suitable foundation of level, reinforced concrete).
If you would like to verify that
building a garage
can cost less than $10k, you can read this report:
Costs of building a garage addition
. Home Advisor reports in their study about
the cost of building a garage addition in Phoenix
(from the ground up) that home owners occasionally spend below $8,000 (all the way down to as low as $5,000). So, a basic conversion from a standard carport to an enclosed garage should obviously cost even less than that.
"Why are some carport conversions so much cheaper than others?"
While the cost of many carport conversions will be between $5,000 & $7,500, there are exceptions on both ends. For instance, a carport with a metal roof (like you might find in a mobile home community for snowbird retirees in Phoenix) can be enclosed with inexpensive metal siding.
To see an example of that and read about that option, click here:
the pros and cons of converting a carport to a metal garage
. By the way, if you have any intention of using that garage in the warmer parts of the year, that option is probably not going to work for you (no matter how low the costs are to build it).
On the other extreme, the carport on the right was extended way down in to the driveway and enclosed as a 6-car garage. That custom garage construction job was not cheap. (You can see more photos and read more about that project here:
a big garage built by extending the existing carport and enclosing all the open sides
).
Obvious factors in the price will be the size of the garage and how many existing walls are in place, plus whether the roofing and other materials are in good condition or need to be removed and replaced. Naturally, the extra walls of building a
detached garage
will result in costs above building the same size garage as an attached garage addition. Further,
custom garages
with multiple stories can cost almost as much as construction of an
RV garage
.
"Why do you some carport conversions cost so much more?"
I have seen reports of people paying $25,000 or even $70,000 for converting a carport to a garage, like
this article on Angie's List
, although I find that article to be quite inaccurate on several major points. Obviously, if a contractor quotes someone $25,000 to convert a carport to a standard garage and the homeowner pays them that much, then congratulations to the contractor if they are making a massive profit on that job.
There is another way to make large profits though, and that is by earning lots of referrals and recommendations. Our carport conversion contractors in Phoenix make up for their low prices by the high volume of garages that they get hired to build. (You can hear a few past clients talk about the low prices and the high quality of the work at this testimonial link:
the best carport conversion contractor in Phoenix
.)
Ultimately, just like the exact same home might be bought by different people a few years apart for $200,000 and $300,000, it is easy to explain why a remodeling contractor might quote a high price to someone. Just like the seller of a home might set their asking price way above what they are willing to accept, a contractor who is trying to sell someone a renovation service might ask for a very high price (in the hope that someone may be so anxious and wealthy that they accept the offer).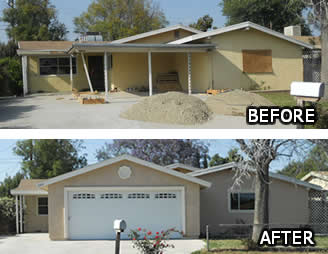 "What would it cost to build that garage if there was no carport already?"
Aside from the profit motive of contractors, one very basic variable in the cost of any carport conversion is how much it would cost to build that particular garage as an addition. For instance, an aspect of the size of a garage that many homeowners have not considered is the height of the garage.
Many carports in Arizona currently have a very simple flat roof. If the rest of the house has a peaked roof with asphalt or a sloped roof with tile, then most homeowners will want us to copy the same appearance for the roof over the new garage. In some cases, we can add even add an overhead crawlspace to match the contours of the existing roofing (like in the image to the right).
Another factor is the siding on the house. If the house has stucco or adobe, then copying that will cost a different amount from a brick wall or vinyl siding. We will help you to match the exterior of your new garage to the rest of your house, including the color of the new garage doors and any decorative accessories on it.
Do you want the garage door to exactly match the color of the accent paint (like around your windows)? Many homes in Greater Phoenix feature mostly neutral colors that are easy to match just with the standard colors of most any brand of garage door. If not, then we can always add paint (plus, white garage doors will match most any color scheme).
Adding up the details to create a final cost estimate
The essentials of converting a carport to a garage are buying a new garage door, framing the partial wall that connects to the driveway, and installing the new garage door there, plus adding one or two exterior walls, including the interior drywall. Beyond those essentials, there are lots of other steps that may be required or desired. (To see a gallery that shows photos of the first steps of the process, click here:
converting a carport to a garage
.)
So, if the carport conversion is a simple one, then the basic variables for the total cost are:
1) the size of the carport or garage,
2) the cost of the materials to match the rest of the exterior of the house,
3) the cost of the labor to perform the actual remodeling service, and...
4) the cost of purchasing and installing the new garage doors and opener.
However, even with all of those things clear, it is not realistic to give a precise estimate without inspecting the carport in person. A carport conversion specialist will inspect a variety of fundamental issues (such as inspecting the concrete slab foundation for cracks) to look for other issues that need to be addressed in order for the carport to be stable (and to pass the inspection standards of city officials).
What we can comfortably tell you is that just the garage doors and the installation can easily cost more than $1000. Sometimes, the doors alone will cost that (although that is up to you, since our specialists can install ANY door that you select). Here is a comment reporting on expenses of several thousand dollars for installing residential garage doors on a 2-car garage:
cost of replacing garage doors
.
In a report from HOME ADVISOR, they computed
the average cost of over 6,000 garage door installations nationwide
and their final calculation was just over $1,000. (In Phoenix, the average costs, taken from over 100 installations, was actually almost $200 less than that, plus you could spend even less - like by getting a very cheap garage door - if your budget requires it.)
"Can you really complete a simple carport conversion in one day?"
Yes
, our contractors occasionally can get small conversions finished that fast. Obviously, the additional renovations mentioned just above could increase the total time that it takes to complete your carport conversion. Only the simplest carport conversions can be completed in less than one full working day. Further, in cases where getting a permit in advance will be legally essential, it can be more than a week between applying for the building permit and getting approved. (Naturally, there is no way to control the speed and efficiency of your city's permit approval process.)
Sometimes the renovations before we can really begin are extensive, such as if the new garage will be bigger than the current carport, so we need to extend the driveway. In that case, we may even need to remove plant roots and big rocks, then level the ground, prepare the forms, and then finally pour the concrete to expand the existing foundation. Each stage, including the later drying of the concrete, will involve an additional period of time.
Once the concrete foundation is dry, then we can move on to the next steps of the remodeling process. In some cases, if there needs to be custom materials ordered or multiple inspections (like if you are adding plumbing and a closet for a water heater in to the garage), then a conversion can involve several more days of actual construction work plus one or more weeks just of waiting. For people who have a very specific deadline, like you are preparing the home for use as a rental and already have a lease signed with tenants, be sure to specify that to the estimator and/or conversion supervisor.
"How much does the building permit cost?" When applying for a permit, the city government estimates the dollar amount that enclosing your carport in to garage will add to the value of your home. Based on the estimated increase in value, they will charge you a permit fee (which is usually between $150 and $350). However, paying that cost avoids the potential for fines, plus complications when you want to sell the house or in the event of an insurance claim relating to the quality of the carport conversion. (Unless you have paperwork showing that the city inspector approved the quality of the conversion remodeling, then the typical response from an insurance company in the event of any claim relating to the converted area is "we presume that the unpermitted conversion was not up to code and we presume that negligence could have been the cause of some or all of the problems.")

In other words, if you cannot afford the cost of getting a permit, then you might want to postpone converting the carport to a garage. Or, if you simply have a temporary cash flow issue, note that we do have financing options available through a local credit union. Contact us for details. "I want to convert my carport to an Arizona room or some other living space." Naturally, that can cost a lot more then converting a carport to a garage. For an in-person consultation and precise estimate, contact us now by clicking here: remodeling in Phoenix AZ.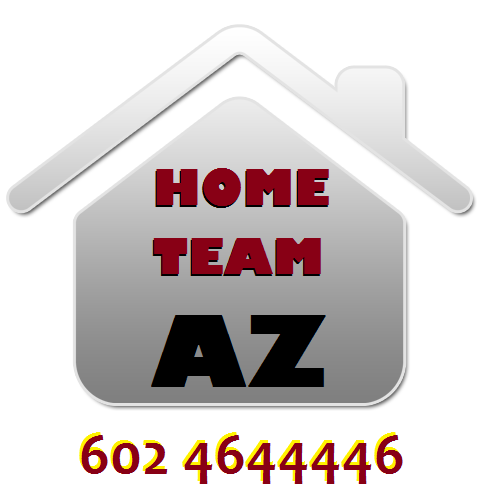 To ask a question or to request that we contact you to schedule a free estimate, click here now: contact us about carport conversions in AZ
| | | | |
| --- | --- | --- | --- |
| Below are segments of our latest audio testimonial. A homeowner west of Phoenix contacted us when he was planning to convert his carport to a garage. | BEFORE, | DURING, & | AFTER |
Above are pictures before, during, and after the carport was converted in to an enclosed garage west of Phoenix. This carport-to-garage conversion was a pretty standard one (including the building of a single side wall plus framing off the front for the garage door). To learn more details about this project, plus why the homeowner is now so eager to recommend our garage builders, keep scrolling down.
Why convert a carport to a garage?
Q: What led you to contact us?

A: I'd been wanting a garage for well... for ever. I've got an old classic car and I've only had a carport. So I figured it would be time to get the garage fitted.

I just kind of googled "carport conversion in to garages" (on google) "in Phoenix" and you guys came up. So I gave you guys a call and the price was right, so that's why I gave you guys a call [another call] to get it done!
Converting a carport to a garage for added security
When Steve had first called us, he told us right away that he wanted the added security of a garage so that he could safely store his classic car (as well as his work truck). So, as he was thinking about how he could spend his tax refund in early 2017, he started to investigate the costs of enclosing his carport in to a garage.
If I recall correctly, he was hoping that the total costs would be small enough for him to pay for it all with his tax refund. However, he was a bit disappointed when he found out that his tax refund was not going to be as much as he hoped. Still, he really wanted a garage, plus, to keep costs down, he was willing to do some of the simplest parts of the renovation himself (such as painting the newly constructed garage to match the existing walls).
The week before the superbowl is when his story took a very unusual twist. One winter morning, he walked outside to get in his truck and drive to work (just like any other day). However, this day would not begin as smoothly as he expected....
(The short version of the story is just below. Or, you can hear him tell the whole two-minute version of the story by playing this audio: ).
Basically, his work truck was not where had had parked it. He called the police plus his boss (who told the auto insurance company) to report it as stolen. Quickly, there was new urgency for finding someone to
enclose the carport
at a price he could afford! He says he considers his neighborhood to be safe, but he definitely did not want his own classic car stolen. That would be much more heart-breaking than the work truck (that belongs to his employer) getting stolen. His motivation surged and he starting looking for a contractor in Phoenix to enclose the carport.
Why did he select our carport conversion contractors?
Q: One of the big factors in selecting to work with us was the price, obviously?


A: Yeah



Q: Am I right that you contacted some other contractors about providing a conversion for you?



A: Yes, yes I did.



Q: ...Would you say a little bit about why you did not choose them?



A: The price wasn't right. They didn't seem... they didn't sound very professional. They were charging too much money and were very very pushy to get the job done when I hadn't made my mind up yet or not. So that's why I chose you guys over them.
Would he recommend our carport conversion contractors in Phoenix to you?
Q: If you knew somebody - anywhere in Phoenix, Peoria, or wherever it may be - If you knew somebody who was interested in enclosing their carport into a garage, how likely is it that you would recommend John?

A: 100 percent absolutely. I even told him I'd recommended him... for sure.

They did a incredibly good job... extremely fast. Some... They're very very cool people.

They did a great job. I was really impressed.
Before & after photos of another carport-to-garage conversion in Phoenix:
| | | |
| --- | --- | --- |
| This carport was also converted to... | | this garage (for a real estate investor to flip the home): |