Carport Conversions in Arizona (Greater

Phoenix

):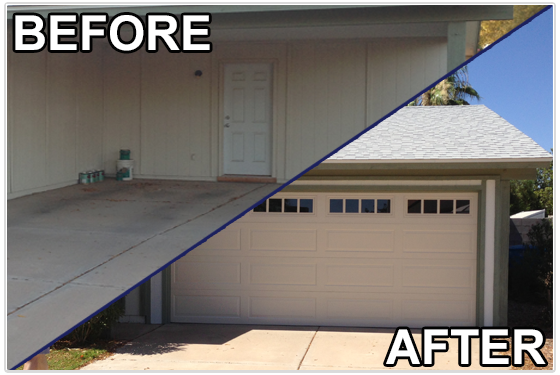 When you are going to hire a contractor for a carport conversion in Phoenix AZ, you may have questions about why you should choose our service right? Below, you will read some of the issues that many of our clients across Phoenix have told us made it so easy for them to choose to hire us.
If you are just starting to plan a carport conversion and want to read our planning FAQs, click costs, codes, permits, etc. If you have any other questions, ask us by clicking here. (By the way, if you are planning to convert your garage or carport in to a living space, we will help you with that, too!)
"Why do you have such great reviews for carport conversions in Phoenix?" (Scroll down.)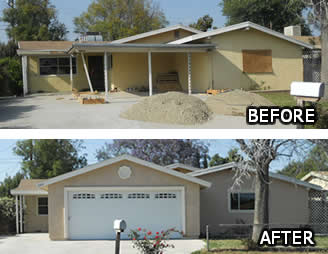 Our experienced professionals began as specialists in the field of garage door installation. When converting your carport to a garage, wouldn't you value using professionals that have extensive experience with installing a variety of garage doors and openers?

The most important thing with your conversion project is that you are satisfied with the results for many years, right? If you want to skim through several brief testimonials of happy customers that recommend that you hire our conversion specialists, click here now:

reviews

. (There is even a 3-minute audio testimonial on that page).

As a longer example, below is a review (from Dave H. in Cave Creek, AZ) that was submitted in 2011 through one of the most trusted testimonial websites on the internet. Below his personal recommendation, you can keep reading to learn more about why our decades of experience doing carport conversions in Arizona will make a difference to you.


Comments on the quality of the carport conversion project:
The job went perfect. The next day after I called to schedule, the conversion work was started. They showed up on time (all the way out to me way north of Phoenix) and got the job done in the time John said it would take. It really could not have gone any better. Plus, calling me the day after to check on my satisfaction was really appreciated.

Detail of the carport conversion project in AZ:
Obviously, we needed someone to convert our carport in to an enclosed garage. After talking with John briefly on the phone and scheduling for him to come all the way out to us north of Phoenix to take a look, he inspected the existing carport. The first thing he showed me was a termite-infested beam in the ceiling of the carport. Although that was unexpected, I'm glad he found it. He explained everything that needed to be done and why.


Once they started the work, they carefully removed that weak beam, then even showed me the termites, and put in a new beam. Before long, they had finished framing out the front of the carport to accommodate a standard-sized garage door. Finally, they installed the new garage door and the garage door opener, plus programmed the keypad and 3 remotes. We can even open the garage door using our phones!

Last, one more thing that I thought really set this company apart in a good way was that John called me the next day just to make sure everything was up to my liking. In fact, I had one very small issue that was a concern to me. So, he immediately came back out that day and cleared up everything for me. By the time I knew exactly how to use the features of the keypad that were of interest to me, including the " vacation " setting to lock the garage door closed while we take long trips in the summer, I was so grateful to have used this company. Thanks, John: you did a great job!
Our contractors have converted carports in AZ across 3 decades
In our decades of work in Arizona, we also have developed great relationships with the staff of the various local cities who issue permits for home renovations and who conduct inspections for carport enclosures and garage conversions. In addition to the other required inspections, some projects may also need electrical inspections. The process of dealing with the paperwork and the inspectors can be stressful for many homeowners. Wouldn't it be nice to have someone else to handle all of that for you? (To learn more about the relevant building codes and permits for local cities in Arizona, click here now: AZ)

Especially if you ever rent out the home after enclosing a carport, you also want the lasting value of having garage doors that have been installed properly (so there is no hassle of correcting any errors in the bracing, in the alignment of wheels and tracks, or in the compatibility between the weight of the doors and the power of the opener). Also, when you eventually sell the home, not only will an enclosed garage make it easier to sell, but sellers in Arizona can produce an increase in the actual selling price of the home that is bigger than the total cost of the conversion.

When you hire our professionals to convert your carport in to a garage in AZ, you will feel the interest and confidence of our specialists as we speak with you about your priorities and questions. It can be very exciting for you to see the project get completed so smoothly and quickly. You may also be quite relieved to find out how little the entire project will be. Contact us today to schedule your consultation.


To ask a question or to request that we contact you to schedule
a free estimate, click here now: contact us about carport conversions in AZ

| | | | |
| --- | --- | --- | --- |
| Below are segments of our latest audio testimonial. A homeowner west of Phoenix contacted us when he was planning to convert his carport to a garage. | BEFORE, | DURING, & | AFTER |
Above are pictures before, during, and after the carport was converted in to an enclosed garage west of Phoenix. This carport-to-garage conversion was a pretty standard one (including the building of a single side wall plus framing off the front for the garage door). To learn more details about this project, plus why the homeowner is now so eager to recommend our garage builders, keep scrolling down.
Why convert a carport to a garage?
Q: What led you to contact us?

A: I'd been wanting a garage for well... for ever. I've got an old classic car and I've only had a carport. So I figured it would be time to get the garage fitted.

I just kind of googled "carport conversion in to garages" (on google) "in Phoenix" and you guys came up. So I gave you guys a call and the price was right, so that's why I gave you guys a call [another call] to get it done!
Converting a carport to a garage for added security
When Steve had first called us, he told us right away that he wanted the added security of a garage so that he could safely store his classic car (as well as his work truck). So, as he was thinking about how he could spend his tax refund in early 2017, he started to investigate the costs of enclosing his carport in to a garage.
If I recall correctly, he was hoping that the total costs would be small enough for him to pay for it all with his tax refund. However, he was a bit disappointed when he found out that his tax refund was not going to be as much as he hoped. Still, he really wanted a garage, plus, to keep costs down, he was willing to do some of the simplest parts of the renovation himself (such as painting the newly constructed garage to match the existing walls).
The week before the superbowl is when his story took a very unusual twist. One winter morning, he walked outside to get in his truck and drive to work (just like any other day). However, this day would not begin as smoothly as he expected....
(The short version of the story is just below. Or, you can hear him tell the whole two-minute version of the story by playing this audio: ).
Basically, his work truck was not where had had parked it. He called the police plus his boss (who told the auto insurance company) to report it as stolen. Quickly, there was new urgency for finding someone to
enclose the carport
at a price he could afford! He says he considers his neighborhood to be safe, but he definitely did not want his own classic car stolen. That would be much more heart-breaking than the work truck (that belongs to his employer) getting stolen. His motivation surged and he starting looking for a contractor in Phoenix to enclose the carport.
Why did he select our carport conversion contractors?
Q: One of the big factors in selecting to work with us was the price, obviously?


A: Yeah



Q: Am I right that you contacted some other contractors about providing a conversion for you?



A: Yes, yes I did.



Q: ...Would you say a little bit about why you did not choose them?



A: The price wasn't right. They didn't seem... they didn't sound very professional. They were charging too much money and were very very pushy to get the job done when I hadn't made my mind up yet or not. So that's why I chose you guys over them.
Would he recommend our carport conversion contractors in Phoenix to you?
Q: If you knew somebody - anywhere in Phoenix, Peoria, or wherever it may be - If you knew somebody who was interested in enclosing their carport into a garage, how likely is it that you would recommend John?

A: 100 percent absolutely. I even told him I'd recommended him... for sure.

They did a incredibly good job... extremely fast. Some... They're very very cool people.

They did a great job. I was really impressed.
Before & after photos of another carport-to-garage conversion in Phoenix:
| | | |
| --- | --- | --- |
| This carport was also converted to... | | this garage (for a real estate investor to flip the home): |